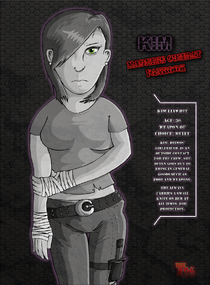 Kim Liawhit is an OC made by Tarantulakid96. Her only appearance has been in a chapter of the Madness Combat Fanbook. A digital drawing of her was released by Tarantulakid96, along with a small biography.
Kim is Deimos' girfriend in the MCFB, and she seems to have drinking problems. According to the biography, she is also an outside contact that brings in supplies for Hank, Sanford, and Deimos. Her weapon of choice is melee.
She has yet to be shown in a Madness sprite form.
Ad blocker interference detected!
Wikia is a free-to-use site that makes money from advertising. We have a modified experience for viewers using ad blockers

Wikia is not accessible if you've made further modifications. Remove the custom ad blocker rule(s) and the page will load as expected.