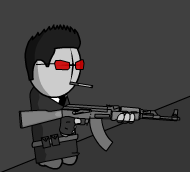 The l33t agent is a Madness Combat character made by a fan that plans on featuring him in animations. The character looks like a normal l33t agent with red glasses but has hair, a cigar and a belt around his waist. The fan has made and posted several more characters in his twitter page. The l33t agent has so far not appeared in any animations and the actual name is available to suggest on the fan's twitter page.
Ad blocker interference detected!
Wikia is a free-to-use site that makes money from advertising. We have a modified experience for viewers using ad blockers

Wikia is not accessible if you've made further modifications. Remove the custom ad blocker rule(s) and the page will load as expected.